It's important to realize that these are all generalizations based on assumptions about fan behavior which may not be relevant to your fans at all!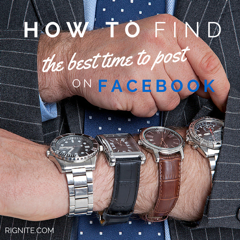 While those generalizations might be an ok starting point for testing, the real answer can only be found by analyzing the real performance of your posts and the goals you'd like them to accomplish. For example, are you trying to boost engagement or are you trying to drive traffic to your site?
It's a good idea to publish a mix of posts that each target a different goal. Some posts might be aimed at boosting engagement in the form of likes and comments. While others might be geared toward getting link clicks so you can drive traffic to your site.
Armed with this knowledge, you're now all set to start scheduling your posts using tools such as

Rignite and Buffer. But while you might be improving upon what you're doing now it's unlikely that you're really posting at the best times for your fans to engage with you.
Here are 3 things to consider when trying to figure out your best posting times:
The times when your fans are most likely to be online are not necessarily the times that they are likely to engage with you or click your links.
Tip -> Look at your past posts to get some insight from posts with high and low engagement.
All engagement is not of the same value to you.


Tip -> Decide what type of engagement is helping your business the most: link clicks, shares, comments, post likes.

The content of your posts matter. Curated content of articles of interest are different than special product offers or content that you own. Each type of content may have a unique set of best times to post.


Tip -> Categorize your posts into 4-5 types of posts so you can easily see engagement differences and assess the value of each type to your business.
(Bonus Tip)

If you have different fan segments such as Mother's, Grandparents, and Students, each segment will likely have a unique set of best times to post.
Tip -> Match each audience segment with best engagement times and most valuable content for your business.
Ultimately, if you're really serious about finding out the best times to post on Facebook, you're going to have to be willing to get your fingers a little dirty. By that I mean doing some serious work in Facebook Insights and Excel to figure out exactly when your fans are

likely to engage with you. This might be different than when most of your fans are online. Calculating the best times for your posts is not for the faint of heart, but if you're willing to try it, you can find an excellent step-by-step tutorial here.
Finding

your best times to post on Facebook is a trial and error process. You'll want to experiment with different times, types of content, and frequency of posts. If you take a systematic approach to this and use your Facebook Insights data to help you, you'll be able to get the best results possible for your business.