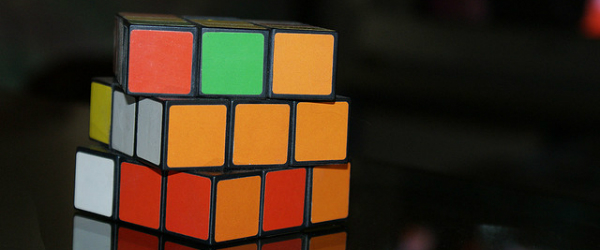 If reading through a dozen pages of jargon-heavy content isn't your idea of fun, not to worry—we've done the work for you. We go over some of the essential elements in creating the best Facebook ads, as well as some examples of effective ads from our own News Feeds.
Essential elements of the best Facebook ads
Speak to the right audience
Before you meet with the design team to develop your ad concept, think of the people you want to attract with your content. Over a billion people log in to Facebook every month, and no matter how much of your marketing budget is invested in Facebook advertising, you won't reach everyone. Thus, it's crucial tocreate detailed buyer personas to help you zero in on the audience you want to attract.
Thankfully, Facebook makes it easy for brands to find a target audience by providing useful information about page visitors with the Insights tool. Using the network's analytics, you can find out the distribution of audience demographics in such categories as gender, age group, primary language and geographical location. Take advantage of this information by targeting customer personas with similar attributes using an appropriate ad. For example, if you're expanding into a new region and want to raise awareness of your business among local residents, your advertising should be translated into the primary spoken language and targeted to Facebook users whose location is set to that geographical region.
In addition to user information drawn from Facebook Insights, the best Facebook ads also take into account their audience's level of sophistication and familiarity with the brand. Facebook allows you to target groups users based on whether or not they have also visited your official website. This can help you decide how detailed your ads need to be: for a new audience member, the ad should include the "elevator pitch" description of your product and service; but for people who have browsed your website or online properties of similar products in the past, the sell should include more details about your value add versus your competitors' offers.
Experiment with placement
Facebook allows for different placements and formats of their ads. You can choose for sponsored content to appear in the users' News Feeds or at the bottom right-hand column of the main page. You can also make the ad exclusive to a platform, catering to either mobile or desktop users. Finally, you can experiment with the format of the ad: you can choose to go the traditional image route, or create an auto-play video ad.
While you should give some thought to all the available options, your final decision should be guided by your business needs and goals. Sure, video content on Facebook has seen spectacular growth since its launch a few months ago, but it may not be the right fit for your customers on the network. The best way to test your Facebook audience's preferences in placement is to launch the same ad in two different places (eg. one in the News Feed and the other one on the right-hand side of the page), and see which one outperforms its rival. We will go into greater detail on best practices for Facebook ad testing in the upcoming weeks, so stay tuned.
When it comes to choosing the platform, take a look at the main traffic source of your visitors: are they avid Facebook mobile or desktop users? You may need to look beyond Facebook Insights for this kind of information, as this isn't a metric included in the overview; but depending on the online behavior of your customers, you might be able to generalize from platform preference provided in Twitter Analytics or Google Analytics for your online properties.
Be aware of Facebook's ad policies
Facebook provides extensive guidelines for advertisers on the network, and if you haven't taken a few minutes to peruse these rules, do so now—all ads are reviewed by the network, and it may cost you hours of work if Facebook deems your advertising content inappropriate during the review process. I won't go over all the rules for advertisers, because Facebook does an excellent job of explaining all requirements in detail, illustrated with examples; but it's worth revisiting some of the most important policies.
First of all, if you're planning on using text in your image ads, remember that you are only allowed the copy to take up 20% of the picture. The 1-to-5 ratio helps maximize the visual appeal of the image, as well as reduce the amount of reading users would have to do. This is especially important if the advertised product features some text in the picture, so make sure to size it properly. When in doubt, use Facebook's handy grid tool to see how your image measures up.
Avoid click-bait or misleading images in your ad. For example, if you think it may be a clever move to place a fake Play button on your image ad to increase click rates, you're in store for a surprise: Facebook encourages the advertisers to be as truthful as they can be, so all misleading text or visual media will lead to disqualification.
Finally, if you're looking to advertise any product that may not be suitable for users of all ages, tread carefully: Facebook may not approve an ad that is targeted to an unsuitable audience. Brands are also discouraged to use images that elicit an overly emotional response: for example, a PSA-style image of a wrecked vehicle. Going for the emotional connection is important for successful advertisers, but this has to be done tastefully. For more details on sensitive content in ads, read Facebook's Advertising Policies.
Define your goals
What are you hoping to accomplish with your Facebook ad? Design elements of your advertisement will vary depending on your focus. Are you driving clicks to a landing page, collecting leads, or communicating your newest pivot in positioning?
For brand marketers, the main goal is brand recognition, or establishing a connection with potential and existing customers on Facebook. Thus, your ad needs to have high recall numbers and a strong link to the brand. Think Coca-Cola ads: the traditional red-and-white colour scheme enforces higher brand recognition, and the annual holiday campaigns strengthen the positive emotional bond between the business and its customers. When it comes to advertising, Coca-Cola are masters of their craft, so it doesn't hurt to take a page or two from their rule book. For brand marketing on Facebook, it's more important than ever to stick to your own brand guidelines. What's the most recognizable thing about your brand—your version of the red-and-white cursive text? What do customers love about your brand? What makes you stand out from others in your field? Find answers to these questions before you start collaborating with your design team, and keep them consistent throughout your advertisements.
If your main focus is conversion, the definition of a successful Facebook ad is different. While it's important to stick to brand guidelines in all your public-facing messaging, the recall factor is secondary; your goal is more urgent—to get people to click on your call-to-action button. This depends on several factors: the clarity of your directive, prominence of your CTA button, and congruence of your ad design with the desired action. The latter means your ad should essentially act as a mini-marketing funnel, with all elements leading the user to interact with the content. Facebook's research has also shown that a clear brand connection and accurate description of the offer leads to higher direct-response rates. The call to action on your ad should also anticipate the landing page, if you're using one; this helps give more information on the offer, and drive higher-quality leads.
Get (better) creative
The best Facebook ads provide a highly visual experience. Your ad needs to stand out among the other content on your target audience's News Feed—which is a tall order, when the rest of the posts are coming from people they already know and (maybe) care about. You can accomplish this by investing in resources that aren't available to your everyday iPhoneographer or token Facebook jokester: high-resolution images, high definition videos, and clever copy.
As I mentioned before, the most effective ads for brand link and recall featured images, links and text all focused on a single directive. You can't skimp out on a single element, or it may cost you customers. I recently saw a great example of a multi-product Facebook ad, which unfortunately also used double-spaced, inappropriately capitalized copy. No matter how good of an offer you're making, if the quality of your copy doesn't properly convey the message, all the other elements risk becoming ineffective.
Finally, design preferences may vary from brand to brand, but Facebook found the ads that scored the best for emotional response and brand link had the product featured in a prominent spot in the ad, like so:

6 examples of effective Facebook ads
Since Facebook ads vary in format and placement, it's only fair to measure their effectiveness based on each category. It's tricky to find the best Facebook ad ever, no matter how adept a researcher you are—all Facebook ads are targeted to specific audiences (as they should be, if you paid attention to our best practices above), so what you see in your News Feed can be completely different from what appears when I log in to Facebook. To find these examples, I have asked several people to browse their feeds to find what they thought encapsulated all the elements of a good Facebook ad.
After some crowdsourcing, here's what we found:
Best News Feed ad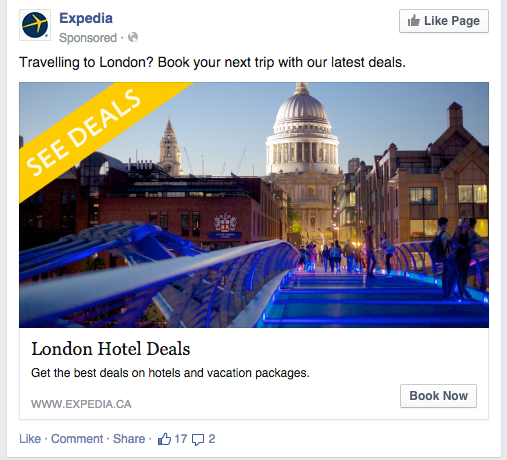 This Expedia ad appeared in the News Feed of a colleague who is indeed planning a Western Europe trip in the near future. Aside from doing a great job at retargeting (while, admittedly, being a little creepy), this ad checks off all the boxes when it comes to good ad design: it features a high-resolution attractive image of a recognizable London landmark; its call to action is displayed in a high-contrast banner that features Expedia's brand colours. The ad copy is simple and straight to the point, while making its sell very clear: "If you're going to London, we'll get you there."
Best video ad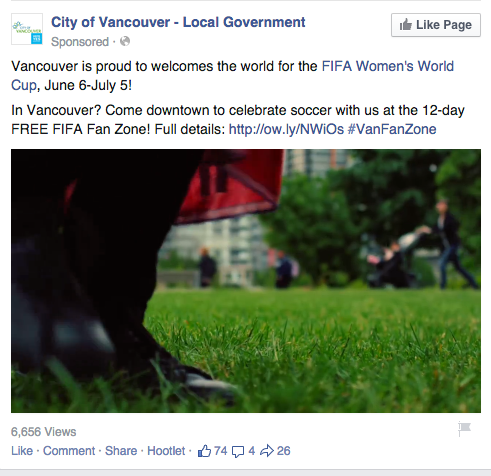 This video ad from the City of Vancouver covers both the local audiences, as well as audiences who may have Vancouverites on their friend list and thus have a higher likelihood of interest in Vancouver-centric content. It includes a high-definition short video featuring scenes of soccer-related activities, which doesn't directly advertise anything—instead, it appeals to sports fans and teases fun multicultural activities expected to take place at the FIFA Women's World Cup festivities. It also provides a clear call-to-action with a link where users can get more information, a hashtag where users can see more of the discussion around the topic, and a trackable shortened URL, which will help City of Vancouver's Facebook Page manager determine how much traffic the ad generated.
Best mobile ad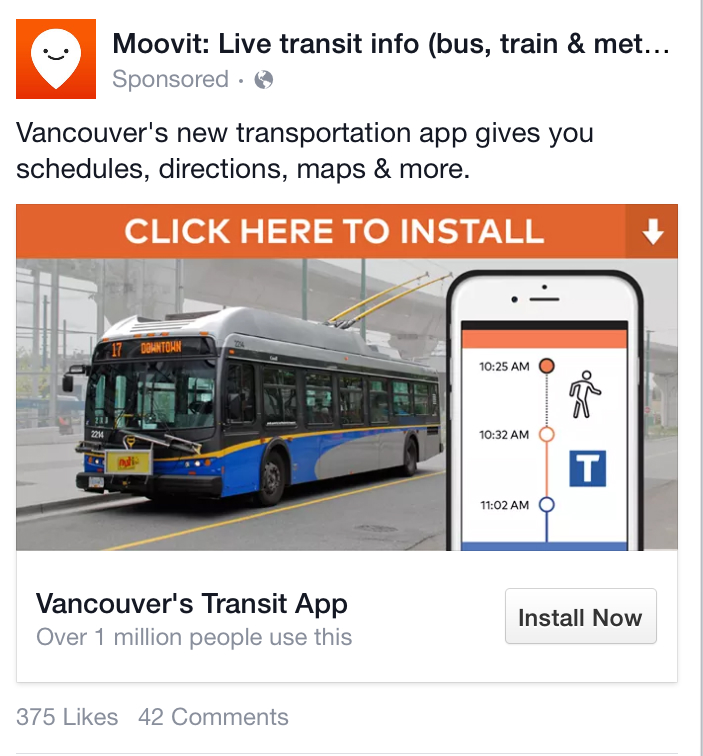 Looking for good mobile ads proved to be a surprisingly difficult task: either not many advertisers choose the mobile-exclusive option, or Facebook algorithm limits the amount of sponsored content you see in your mobile feeds even more so than in the desktop version. This example stood out to us from the start: not only does it feature a smartphone screen in the example, making the connection to mobile obvious; the call to action is also targeted to mobile users. Moovit's ad has a prominent CTA banner in brand colours, and it clearly communicates the app's value to users in Vancouver.
Best multiproduct ad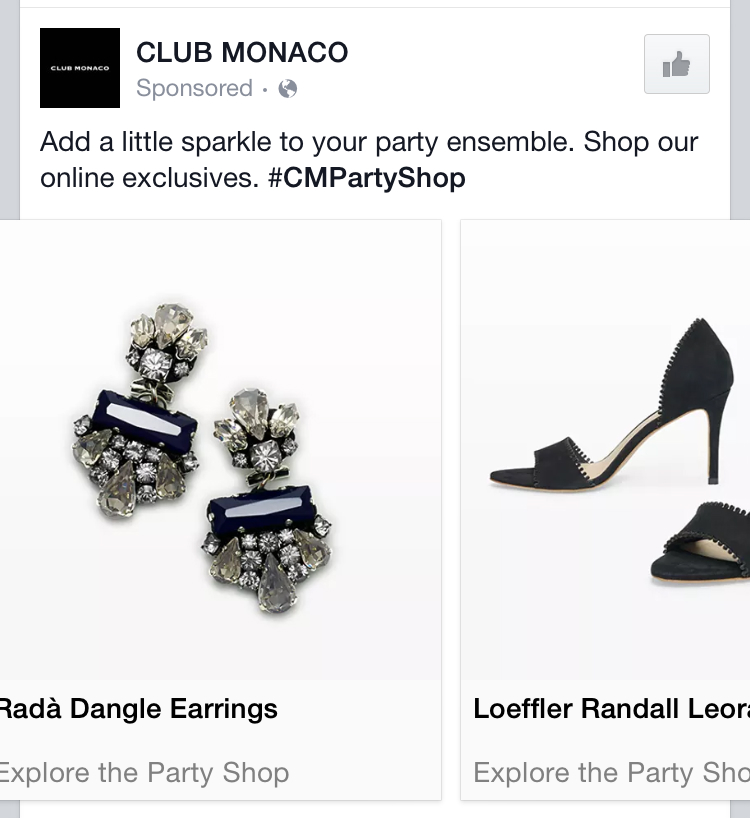 This multiproduct ad from Club Monaco is brilliant in its simplicity: its most effective selling point is the mention of "online exclusives." This phrase helps convey the online shopper's privilege over someone visiting Club Monaco's brick-and-mortar location. It features several products that fit a theme in the description (outfits for a party), which are displayed in detailed, well-shot photographs. It's also optimized for mobile users, which is a smart move—the multiproduct ads on Facebook feature an image carousel, and choosing to show this ad to mobile audiences takes advantage of the natural smartphone swiping habits.
Best right column ad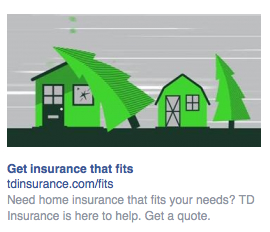 TD Insurance was our pick for several reasons. First, it was one of the few ads on the right column that fit the entire copy without having to expand the ad. This came as a surprise: my initial guess was that copy length would be one of the simplest requirements to fulfill. The call to action is clear and simple, and it's expressed in both the ad title and copy. It also features recognizable TD colours—light green, forest green and gray—which help the ad stand out from the rest of the content in the News Feed and right column.
Best boosted Facebook post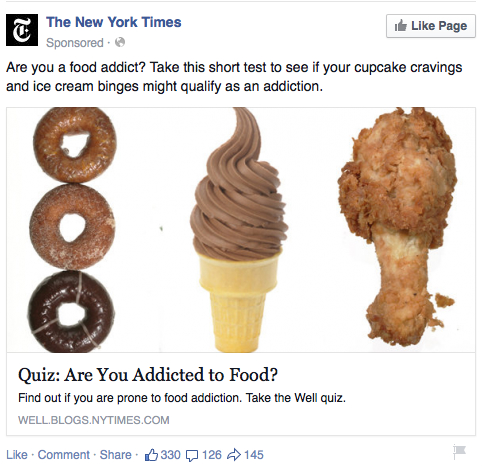 New York Times takes the cake (or in this case, the donut) on promoted posts from their Facebook Page. This is a good example of a brand awareness ad: it encourages you to visit the publisher's website by offering to provide insight about your junk food eating habits. This Facebook ad features an unusual image, and it also plays with expectation—a chicken drumstick and soft serve ice cream aren't the first things that come to mind when you think of the New York Times.